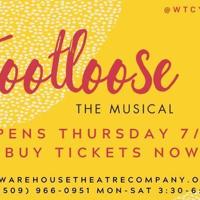 Yakima Valley Weekender: Crafts, music, animal adoptions and cowboy ballads | Explore Yakima
Phew! July does not reassure us before its departure. The Weekender hopes you're staying cool while enjoying the end of the month.
As the last full month of summer is knocking on our doors, there are still plenty of events and activities to socialize with new and old friends.
If you host or create events, complete free to submit and post events at www.yakimaherald.com/calendar.
Small Farmer's Craft
OK, so Thursday isn't "the weekend", but it's pretty close! Every Thursday at 11 a.m., you can join Blueberry Hill Berries for family fun.
Crafts cost $5 per child or $4 each for multiple children in the same family. They are aimed at children from 2 to 8 years old, but all ages are welcome. Each paying attendee will also receive a voucher for a pound of self-picked blueberries or a soft treat.
Blueberry Hill Berries is at 1520 W. Wapato Road; visit www.bhberries.com for more information.
LGBTQ+ & ally game & craft night
Yakama Nation Behavioral Health is hosting an LGBTQ+ and Allies Games and Crafts Night from 5-7 p.m. FridayJuly 29, 2022, in Yakama Nation Behavioral Health Services Yard, 511 S. Elm St. in Toppenish. Participants are encouraged to bring their own lawn chairs.
LGBTQ+ and their allies are encouraged to bring their favorite board games and craft supplies. Yakama Nation Behavioral Health will also have limited games and supplies.
Yakama Nation Behavioral Health provides a safe space for inclusivity and openness. The event is for all ages, but those 13 and under must be accompanied by an adult.
Contact Chestina Dominguez by email, [email protected], or call 509-830-9052 if you have any questions.
pet adoption event
The Yakima Humane Society will be at Wilco, 5801 Summitview Ave., Suite A, from 11 a.m. to 3 p.m. Saturday with adoptable animals seeking forever homes.
The Humane Society Adoption Program works with families to place abandoned and unwanted animals into loving homes. Adoption fees include neutering surgery, intestinal vaccinations and deworming, flea and tick treatment, rabies vaccine (for pets 3-4 months and older), and 24PetWatch microchip and the record.
Adoption fees also provide medical care, food, and shelter for animals in the care of the Humane Society.
For more information on the adoption process, contact [email protected]
Arizona Cowboy Ballad
Mike Ewing, the Arizona Cowboy Balladeer, will perform from 6-10 p.m. Saturday at the D'Nile Tap House, 204 Naches Ave. in Naches.
After touring with a world-class band, Ewing is now on his own, performing original tracks from his time with the band. Ewing has a repertoire of nearly a thousand songs and can handle almost any country or classic rock request.
The icing on the cake, his music invites people to dance!
The D'Nile Tap House is family-friendly and serves craft beer, cider, and wine. They have a limited menu of sandwiches and sharing dishes like a meat and cheese platter.
Orchestra Pacifico Tropical
Come catch the Yakima debut of Papi Fimbres and his Portland-based 11-piece cumbia/salsa band from 7:30-9:30 p.m. Saturday at Seasons Performance Hall, 101 N. Naches Ave.
Orquestra Pacifico Tropical brings 50s, 60s and 70s cumbia music from Colombia to Peru for a cumbia and salsa dance party.
General admission tickets are $20. Visit theseasonsyakima.com for more information and to purchase tickets.
'Footloose the Musical'
The Warehouse Theater Company presents "Footloose the Musical" at 7:30 p.m. Friday and 2 p.m. and 7:30 p.m. Saturday.
You probably know the story: A Chicago teenager moves to a small town where dancing is banned by the local reverend. A town boy befriends the Reverend's daughter and a country boy, all trying to persuade the town to overturn the ban on dancing.
The musical is directed by Angel Saucedo and produced by Pat Seely.
Tickets start at $18.50 and can be purchased at warehousetc.booktix.com.