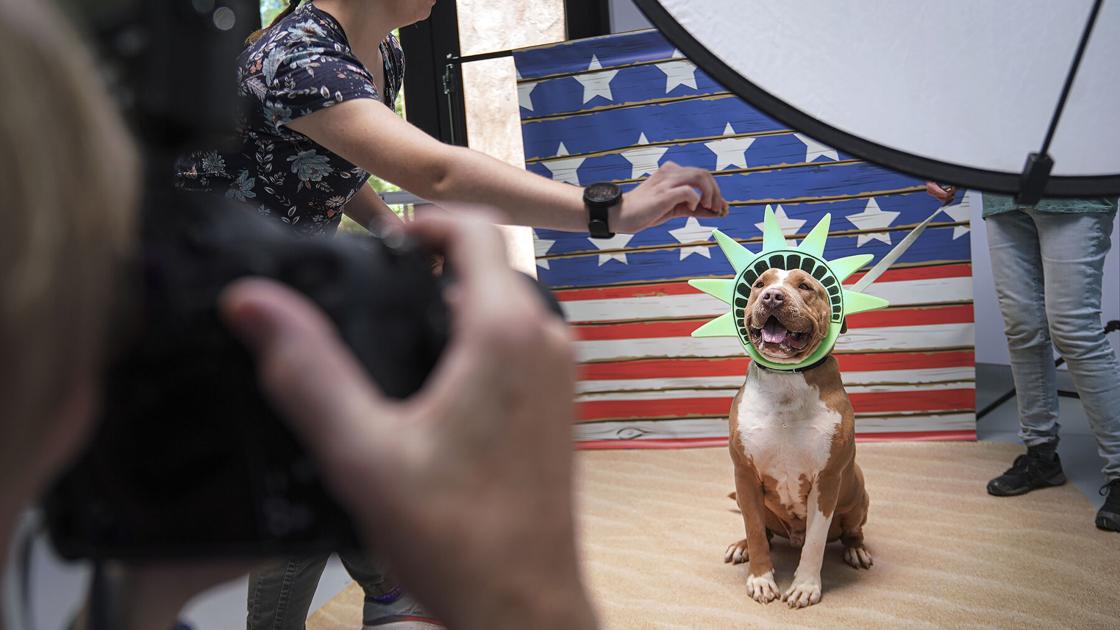 Santa Fe Shelter Has Many Dogs, Not Enough Staff | Local News
The four women prepared Thursday for glamorous photos they had missed for many months.
The photos are said not to be of themselves but of pets from the Santa Fe Animal Shelter & Humane Society, which uses high-quality images of its animals to capture people's attention on the shelter's website and in other promotional materials.
It was the first day the four volunteers returned after more than a year due to the coronavirus pandemic. Photo assistant volunteer Lyn deMartin said she was so happy to be back that she cried while talking to a staff member.
It's still a tough time for animal shelters in New Mexico and many other places.
Volunteers, who generally did not carry out their duties when the pandemic swept across the country, have not yet returned in sufficient numbers. Numbers have declined in some shelters. And spring and summer are a time of high volume due to a plethora of kittens and puppies.
"We're pretty full," said Mattie Allen, spokesperson for Española Humane. Allen said his shelter would like to double its number of foster homes for kittens, puppies and other dogs to 110.
Kittens and puppies are particularly labor intensive as many of them need to be syringe or bottle fed.
To some extent, shelters are resuming their pre-pandemic activities. At the height of the coronavirus outbreak, Allen said, his shelter allowed internet users to visit by appointment only. His shelter reopened to everyone at the end of last month.
At the Santa Fe Animal Shelter just south of town, COO Dylan Moore's biggest worry is how many dogs to adopt.
Moore said the kittens haven't been a problem yet, but he has about 80 dogs available, of which a comfortable number is 60. Staff members look after the dogs at the shelter offices and double the dogs. dogs in kennels more than Moore would like.
"It's as bad as it has been in recent memory," Moore said of the overabundance of dogs. "I think we are at the Imperfect Storm."
He said people who move for jobs or return to work abandon their dogs. Summer trips and summer camps have reduced the number of potential dog adopters, he said.
"Our adoptions are low, our consumption is high," he said.
In addition, while the full complement of its facilities is around 100, it is currently 75. A month ago, the shelter increased starting wages from $ 13 to $ 15 an hour.
And volunteers are just starting to recover from the pandemic, he said. Staff, fundraisers and managers do a lot more volunteer-type tasks like walking dogs and socializing cats than usual, he said.
He has many more dogs and cats in a nearby pet care building, trying to reconnect them with their owners and give them medical attention if needed.
Lindsay Hamrick, director of shelter outreach for the Humane Society of the Maryland, said trends in shelters tend to be regional and not universal. But she said she had not seen any data to support the idea that people are abandoning pets in droves because they are returning to work after the pandemic.
"I think shelters as a whole have seen their admissions increase," said Joel Craig, spokesperson for the City of Albuquerque Department of Animal Welfare. Craig attributed the increased intake to more owners abandoning animals and more stray animals.
Clint Thacker, executive director of the Mesilla Valley Animal Services Center in Las Cruces, said he didn't have a record number of dogs and cats, but had plenty.
"Every day is a gamble," Thacker said, and he hopes he can move as many animals as he collects.
He said he doesn't hesitate to advocate for the adoption of pets on Facebook and is open to the idea of ​​euthanizing sick and aggressive animals when he has an excessive number.
He said shelters would be much less flooded if only people spay and neuter their pets – and put microchips in them so missing animals can be returned to their owners.
Dylan Moore walked through the halls of the Santa Fe shelter with kennels on either side. He had a small waist pocket with dog treats in it.
"There is Macchiato," he said. "He's a good boy." He opened the top half of the kennel doors, scratched the dogs' heads and gave them dog biscuits.
When asked if work breaks his heart, he paused. "Yes, yes, it is absolutely," he said. "In general, grief prompts me to do a better job."
A white board on a hallway wall contained a common description of the dogs. There are magnets for "lizard alerts" (dogs that hunt lizards), "door dogs", shy dogs, and "happy to see you" dogs.
At this point, Daisy the Great Dane rushed through a door, pulling on a leash with the small and light staff member Kim Benigsohn on the other end.
"Oh, she's awesome," Benigsohn said of Daisy. "She's a bit of a shooter."
A hallway in the shelter contained a series of framed and colorful photos of animals. They were taken by Cate Goedert, who turned out to be one of four volunteers setting up for the photoshoot in another room.
Goedert and his volunteer assistants – deMartin, Fay Steving and Miranda Merrill – appeared to be excited for their first shoot at the shelter in a long time.
They had deployed a starry background to celebrate July 4th. "She captures the animal… captures the dog's personality," deMartin said of Goedert.
They had a supply of flower necklaces, toys, costumes, and other items that could dress a dog, calm a cat, distract a ferret.
With the help of his pals, Goedert takes pictures of rabbits, gerbils, birds and many other animals at the shelter. Her photos are cute, but she has a lot to work with.