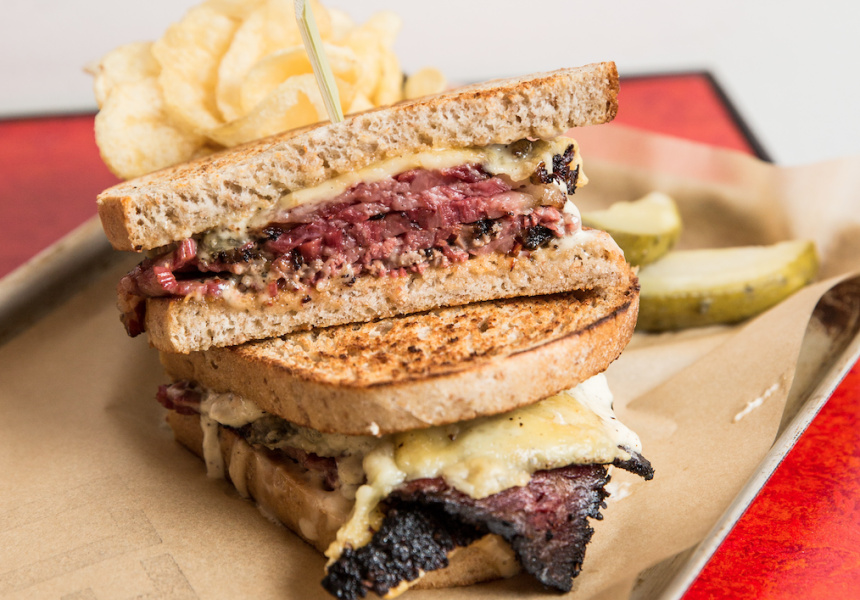 Richmond Sandwich Favorite Big Dog's Deli is closing – but there's still time for one last Pastrami Sanga
Sad news for sandwich lovers in Richmond: the road to the American-style sanga shop and Big Dog's Deli bar is over.
"We thought it best to confirm the rumours," the team wrote on Instagram last night. "After six incredible years, Big Dog's will be calling the final sangas on November 6, 2022."
"In the quest for a balanced life for our family and to take on a new challenge, we will be moving to the region and swapping sandwich making for events," the message continues. "Watch this space for more information on this."
Emely Donegan opened the deli on Lennox Street in 2016 and it's become a local staple, especially for the captain: a huge grilled rye sandwich filled with homemade pastrami, Swiss cheese, team sauerkraut and Russian dressing. And, unlike most other sandwich shops in Melbourne, it has carved out a place for itself by also serving alcohol.
The idea came from Donegan's time traveling, working and cooking in America (particularly Los Angeles and Portland), and was named after her brother – "the big dog" – with whom she developed the concept. And she directed it in tandem with her partner Jente van Beek.
"All we ever wanted was to create a place where quality came first, with a strong community at its heart, and we couldn't be prouder when we said goodbye. What a dream to have a group of customers who literally feel more like good friends.
It's only fitting that the team plans to go out with a bang as big as these pastrami sangas. "We'll be partying on the 6th, so DM to ask for a table before they get taken."
Big Dog's Deli closes Sunday, November 6.
bigdogsdeli.net