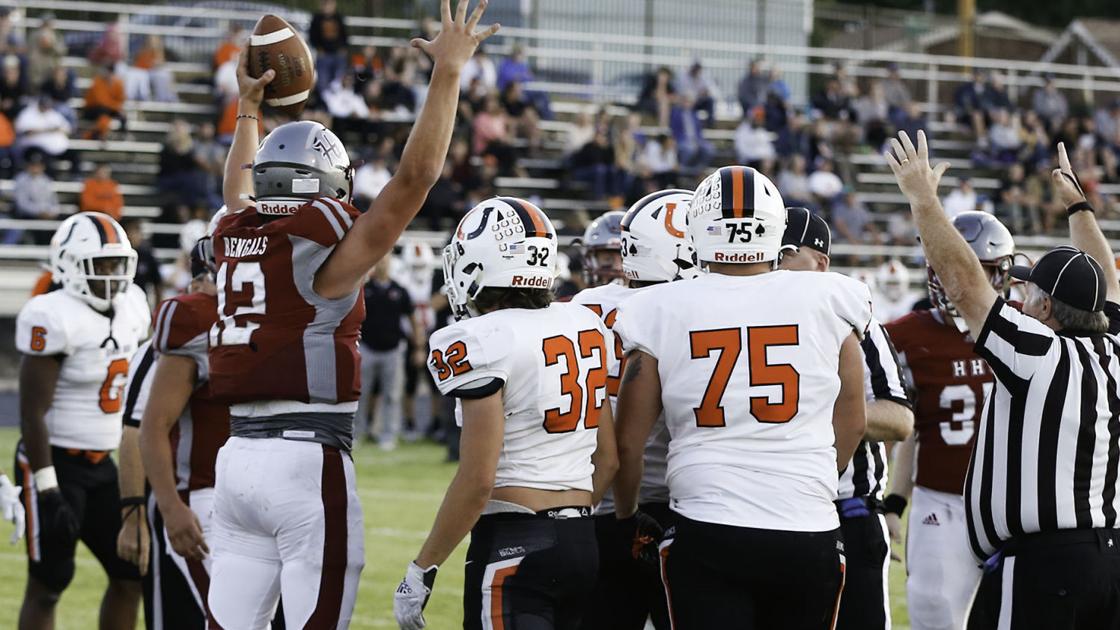 "Our big dogs showed up": Kaden Huot's four touchdowns propel Helena High past Billings Senior | High school football
HELEN – Following Helena High's 28-14 victory over Billings Senior, both head coaches shared the same thoughts.
The battle between Helena, third and Billings Senior, fifth, they said, boiled down to a few games, as football games often do.
However, at Vigilante Stadium on Friday night, the Bengals simply did more and that turned out to be the difference in a 14-point victory.
"I thought our big dogs had arrived," said Helena High head trainer Scott Evans. "Forrest Suero, Marcus (Evans), (Kaden) Huot, (Chase) McGurran – guys like that … Josh Goleman. These names will ring true everywhere. Our elders stepped up and they led. "
One of those seniors is quarterback Kaden Huot.
At first, both attacks struggled to get football moving and Huot even threw his first interception of the season in the first quarter.
But in the second quarter, as his team faced a third and long, Huot performed the kind of play the two head coaches were referring to.
After dodging a sack, Huot finally covered 61 yards for a first down. Two games later he found Carson Anderson in the end zone and it was 6-0 for the Bengals halfway through the stanza.
"I was dead after that, holy cow," Huot said of his long run. "I didn't think I was going to go that far. I cut back and my blockers, they did a great job. Oh man, I was tired, I just ran out of gas."
Huot didn't take him home, but his run changed the momentum.
"It was an energy booster," Evans said. "On the one hand, people don't know how good he is an athlete. Everyone sees his arm talent, but he's an amazing athlete. To hear how good he made moves, but I will tell you. say what, that energized us. "
Leading 6-0, Helena went for more and after Huot found McGurran for 25 yards, he threw his second touchdown of the night at Cade Holland with more than three minutes left before halftime.
"We have a lot of good packages in the red zone," said Huot. "We just perform and have fun."
Facing a 14-0 deficit, the Broncs were going nowhere. Two completions from Christian Emineth to Zeke Ramirez put Senior in the red zone and with 20 seconds to half time Miller hit paydirt reducing the deficit to 14-7.
"These kids aren't going to give up," said Billings Senior head coach Chris Murdock. "So I'm very proud of them for that."
In the third quarter, after missing the first set, Emineth again led the Broncs close to the goal line and Miller finished the run with his second touchdown. PAT tied the score at 14-14 with 2:34 left in the third.
"Our guys aren't the biggest or the strongest up front," said Murdock. "But they're tough and our running backs trust them."
As Miller rushed for 40 yards and two touchdowns, Peyton Morton also added 90 yards on 10 carries for the Broncs who totaled 125 rushing.
Needing a spark, Helena turned to another of her "big dogs" and Chase McGurran delivered a 31-yard rush to HHS from goal position. It followed an interception in the third quarter and on the opening play of the fourth he caught a four-yard touchdown to put the Bengals back in the lead, 21-14.
In the practice that followed, Senior was blocked when a false punt failed in fourth place. Two passes from Huot to Kade Schlepp pushed the ball into all four and Huot finished the run with a four-yard rush, his fourth touchdown of the night.
"Our game on the left didn't work," said Huot. "And I saw some green grass so I took it to the end zone."
In addition to his 231 yards and three touchdowns in the air, the Montana Grizzly commit also racked up 85 on the ground and a score, prompting the question, can he now be considered a double threat?
"Maybe," he chuckled. "I don't know. But a fun night and respect for Senior, they make a hell of a team."
Dropped out 28-14, Senior certainly wasn't going without a fight and led the ball inside Helena's five-yard line, in an effort to reduce the deficit to one score.
But in another game-changing game, Forrest Suero stabbed in the backfield and forced a fumble which Helena recovered. Then, after a 58-yard run from Holland, which allowed him to pass the milestone of the century (103 yards), it was time for the formation of victory.
"The last ride we had where their D lineman timed it perfectly," said Murdock. "It was sort of the one piece that really did it."
While Suero and Marcus Evans both offered sacks for Helena in defense, McGurran and Colter Petre each had steals. McGurran also caught four passes for 52 yards and one scoring, as well as 31 rushing yards.
What makes the victory even more enjoyable for Helena High is the fact that they were able to enjoy it with a stadium full of fans.
"It was awesome," McGurran said afterward. "The student section was back and everyone was excited. It was so different to be back here with the fans."