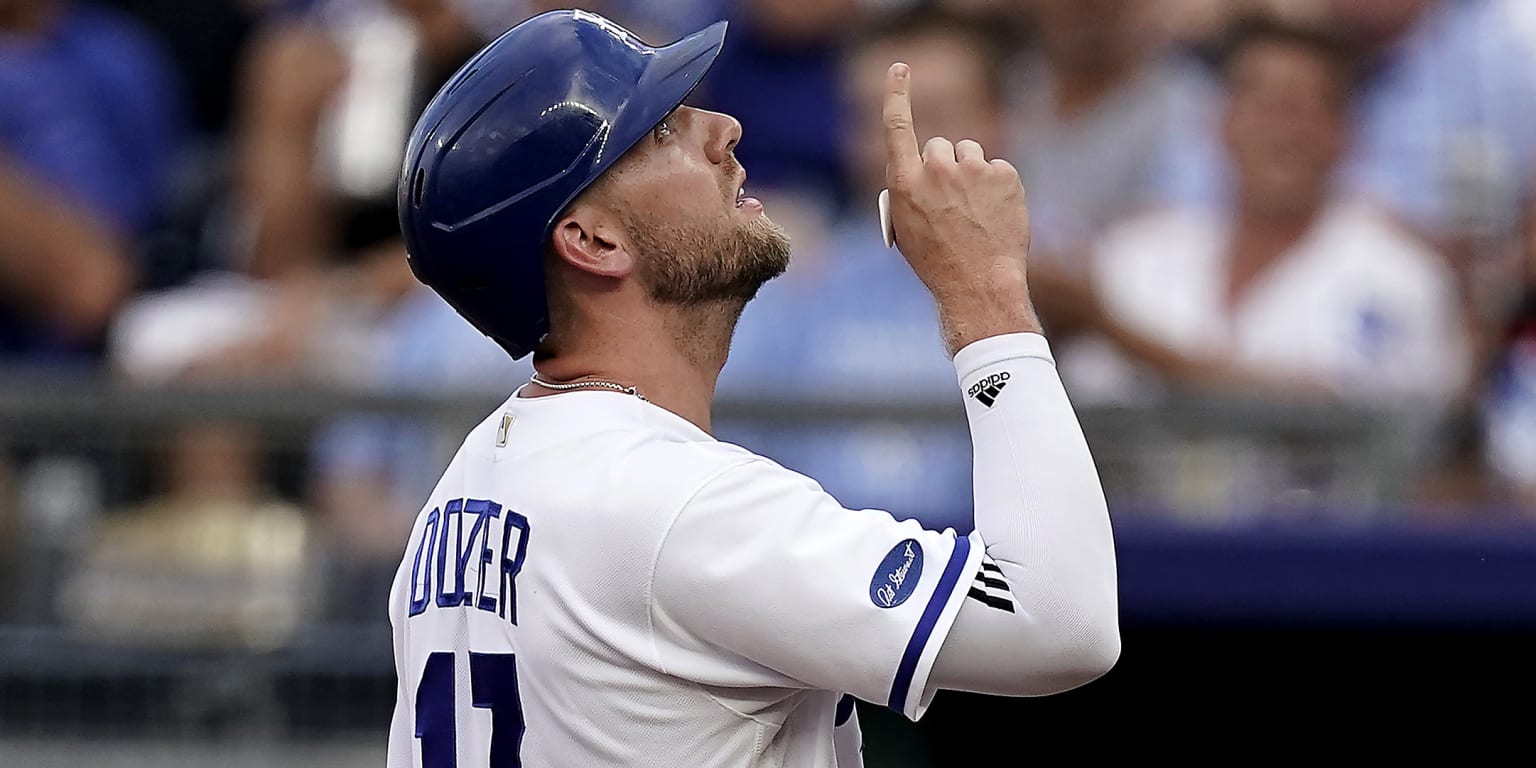 Hunter Dozier and the Royals struggle on offense against Padres
KANSAS CITY — When the Royals pounced on Yu Darvish for a quick three in the first inning on Saturday night, few thought the Padres starter would last long in the game.
But by the time the seventh inning rolled around, Darvish was still on the mound, using the Royals' aggression shown in the first inning against them in their 4-3 loss to the Padres at Kauffman Stadium.
"I forgot who I was talking to on the bench, but I was like, 'Man, if you asked me if he would have pitched seventh after that first inning, I'd be like there was no medium," Hunter told Dozier. "But he's one of the best for a reason. He has been one of the best for a long time. He's got five really good pitches, and when he had control over those and was throwing them for strikes, it's tough to go up against this guy.
Darvish needed 34 pitches to pass the first inning, as the Royals sent eight home and took an early RBI lead from Dozier – who had two hits in an August difficult, during which he hits .169 with a .432 OPS – and Nick Pratto, who drove a two-run double down the middle.
Over the next six innings, the shrewd veteran was about as effective as he could be, needing 68 pitches and allowing only three baserunners more.
"He had to make some changes and adjustments," manager Mike Matheny said. "That's what veteran pitchers do, who have been around and been successful for a long time. … At first I thought the guys had a good attack mode, making it pay, going for walks. It was a good aggressive approach, and he made some good adjustments to take that aggression and turn it into fast innings.
Darvish threw variations of seven different pitches on Saturday, according to Statcast, so the pitches the Royals saw early on weren't the same, nor was the sequencing.
"He's got so many pitches and so many breaks on all of them," Padres manager Bob Melvin said. "Sometimes he has to rationalize a bit and figure out which ones work. To be able to spend seven [after the rough start] was a small miracle."
The Royals left two on base in the first and two more in the second, and those proved costly later when the Padres staged a comeback against Daniel Lynch.
"Leaving money on the table in the first missed opportunity in the second, those will come back to haunt you," Matheny said. "Even if you have a big inning like we did…you have to be greedy early in the game to keep teams like this away, to put away pitches like this."
Lynch, meanwhile, saw the opposite happen. An eight-pitch first inning set him up for a strong start, but the Padres started to figure it out. In the second, Lynch went 0-2 against former Royals draft pick Wil Myers and went to his high fastball for the range field. But Myers was ready for it as he infiltrated the area slightly, leading him to right-center field for a two-run homer, his third of the season and second in as many days.
"Usually in these counts I try to attack the top and middle of the zone," Lynch said. "Either hit the top of the zone or get out of there. It's a place where I have a pretty good swing and miss, and he just put a good swing on it. It was really similar to the swing he put on the ball last night.
San Diego's third inning against Lynch felt a lot like the Royals' first against Darvish. The Padres sent eight to the plate and forced the left-hander to throw 41 pitches, giving up consecutive RBIs in the middle of the order to Manny Machado and Brandon Drury.
If there was one positive in Lynch's 21st start this season – in which he went five innings and had four runs – it's that he found the bite back on his slider, getting seven puffs on 21 swings with his land of bread and butter. , as well as eight called strikes.
"We kind of realized that I had changed my grip and didn't realize I had," Lynch said. "So going back to that, I felt like it was pretty good tonight. … It was very minor, but I guess it makes a big difference.
"I can tell by the break. I think it's a small change that you might not be able to notice, but in my eyes I can tell the difference in the break.