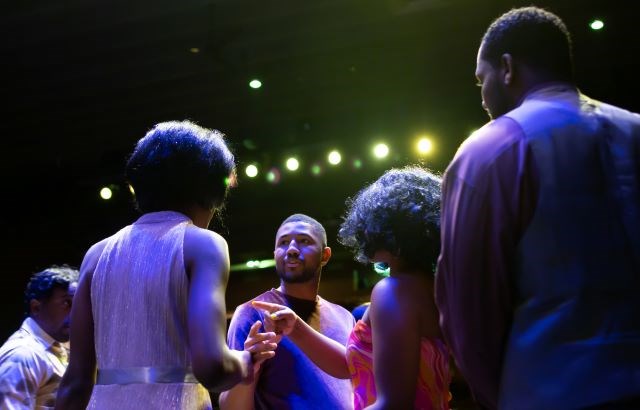 Here are some events happening in the Mahoning Valley
Looking for something to do this weekend? Check out these events.
Here are some of the events taking place in the Mahoning Valley this weekend. For more events, check out our events calendar and sign up here for our Weekend Matters newsletter.
YOUNG TOWN – Youngstown Theater and DeYor Performing Arts Center will return to the theater tonight with a co-production of "The Color Purple".
The production, directed by Trevail Maurice Smith, will premiere at 7:30 p.m. this evening on Saturdays, October 1 and 2, and at 2:30 p.m. on Sundays and October 3 at the Edward W. Powers Auditorium at the DeYor Performing Arts Center, 260 Federal Street West
Tickets cost $ 25 and $ 30 and can be purchased here.
Winner of the 2016 Tony Award for Best Cover of a Musical, "The Color Purple" tells the story of Celie, a young black woman who triumphs over a life of oppression through a personal awakening of love, hope and joy. With a score filled with jazz, ragtime, gospel and blues, "The Color Purple" is adapted from the novel by Alice Walker's Pulitzer Prize and the 1985 film by Marsha Norman, winner of the Tony Award and the Pulitzer Prize, with many music and lyrics by Brenda Russell, Allée Willis and Stephen Bray.
Guest artists Jeanie Darnell and Michael Baron to perform at YSU
YOUNGSTOWN – Youngstown State University Dana Music School will present a recital of guest artists Jeanie Darnell and Michel baron in the Bliss Recital Hall at 7:30 p.m. today.
The program is free and open to the public. Masks are mandatory.
The music will include songs by Schumann, Massenet, Chopin, Viardot and Verdi.
Darnell is Professor of Music and Director of Vocal Studies at the Bower School of Music at Florida Gulf Coast University. Regional finalist of the Metropolitan Opera National Council auditions in 1998, she has been guest soloist of the Gesellschaft für Musiktheater (Vienna), the Naples Philharmonic Orchestra, the Southwest Florida Symphony, the Naples Opera, the Patronato Peruano de la Música Centenarios, from the Operafestival di Roma. , Corsi Internazionali di Musica, Omaha Symphony, Arkansas Symphony Orchestra, Denver Bach Festival, Naples Bach Ensemble, Fort Myers Symphonic Master Singers, Lindsborg Messiah Festival, Colorado Music Festival and Rocky Mountain Music Alliance.
Baron is an award-winning concert pianist who gives more than 40 concerts each year, including annual tours in Europe and South America, and engagements throughout the United States and Asia. He is Myra and Van Williams Professor Emeritus of Music and Director of Keyboard Studies at the Bower School of Music at Florida Gulf Coast University. He is also Honorary Professor of Music at Yantai University and Hubei University in the People's Republic of China.
University theater opens season with 'Almost, Maine'
YOUNGSTOWN – Youngstown State University University theater will open its 2021-22 season tonight at the Spotlight Theater in Bliss Hall with John Cariani's romantic comedy "Almost, Maine".
The show takes place over two weekends. Performance hours are 7:30 p.m. on Friday, Saturday and October 1 and 2, and 2 p.m. on Sunday and October 3.
Tickets cost $ 16 for adults, $ 8 for students, and free for YSU students. They are available on ysu.tix.com. All seats are general admission. Masks are mandatory in all YSU buildings.
Jefferson spacecraft to land at Robins Theater
WARREN – David Freiberg, an original member of Jefferson spaceship, will play with the band at 8 p.m. Saturday at Robins Theater, 160 E. Market St.
The group also includes drummer Donny Baldwin, whose Jefferson Starship roots date back to 1982; keyboardist Chris Smith, who joined us in 1998; guitarist Jude Gold, who joined in 2012; and singer and guitarist Cathy Richardson, who joined them in 2008.
1970s Jefferson Starship hits include "Miracles", "Ride the Tiger", "Jane", "Runaway" and "Play On Love".
Tickets, which range in price from $ 35 to $ 75, can be purchased here.
Canfield Fairgrounds to host the Rooster Rally Car and Craft Show
CANFIELD – The third annual Rooster Rally auto and craft show will take place on Saturday at Canfield Fairgrounds.
The event runs from 9 a.m. to 4 p.m. and is free. It will feature over 500 cars, 50 artisans, fair trade food, vendors and raffles.
Guests are asked to enter through Gate 9, located on State Route 46.
The Monster Outlaw Truck Show also takes place on this day. The annual event takes place in and around the Junior Fair Event Center, located at the southern end of the fairgrounds. The profits will be donated to the facilities of the Junior Fair and to the activities on the exhibition center.
Fall Market to benefit the Rust Belt Theater, Buster's Brigade
YOUNG TOWN – Rust Belt Artists will host its annual meeting Fall market from 11 a.m. to 5 p.m. Saturday and Sunday to B&O station, 530 Mahoning Ave.
Admission is $ 1 at the door.
The event will benefit Rust Belt Theater Company and Buster's Brigade, a non-profit organization that helps dogs and cats in and around Mahoning County. The organization works with Mahoning Valley Second Harvest Food Bank to help families in need with pet food. He also assists the Youngstown State University Pre-Veterinary Society with its low-cost clinics, says a press release.
Nearly 30 local artists will present their works at the market. Items for sale will include paintings, ceramics, jewelry, unique decor, chocolates, baked goods, soaps, flower arrangements, photographs and more. The B&O station will have a cash bar and the kitchen will serve food.
The Butler to Host an Artists Reception with Teo Nguyen
YOUNGSTOWN – A free reception with the artists Téo Nguyen is scheduled from 1 p.m. to 3 p.m. Sunday at The Butler Institute of American Art's Beecher Court.
The butler opened an exhibition of Nguyen's works earlier this month titled "Teo Nguyen: Finding My Way."
The large-scale exhibition of serene rural landscape paintings will be on display at the Lloyd Gallery and Lipscher Gallery of American Scene Painting in the museum's Beecher Court until November 14.
Nguyen lives and works in Minneapolis. Its landscapes of the rural upper Midwest capture the vast space, limitless fields, great skies and icy isolation unique to the region, especially in winter, according to a press release.
Admission to The Butler, 524 Wick Ave., and the exhibit is free. Face masks are mandatory to enter the building. Hours of operation are 11 a.m. to 4 p.m. Tuesday to Saturday and noon to 4 p.m. Sunday.
A few quick hits …