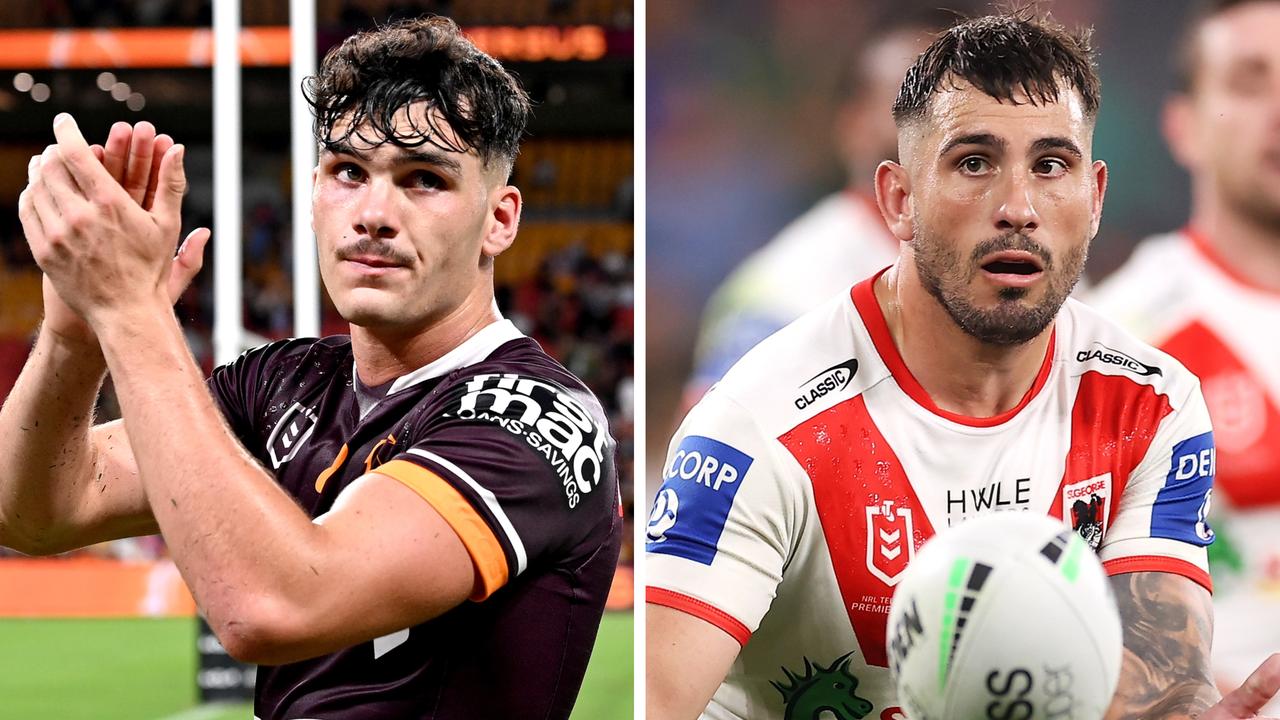 Herbie Farnworth, Broncos, Dolphins, Selwyn Cobbo, Jack Bird, Dragons, Player moves, transfer news, Matt Lodge, next club, Warriors, Dolphins
The Dragons power brokers are confident star man Jack Bird will sign the three-year contract extension filed two weeks ago.
St George Illawarra general manager Ryan Webb has explained that the former Broncos rower will stay at the club despite reports that he had "cold feet".
According to the Sydney Morning Herald, Bird will put pen to paper on the extension within the next 48 hours.
Veteran rugby league journalist Brent Read has revealed details of the extension stoppage on Triple-M Sunday afternoon.
Stream every game from every round of the 2022 NRL Telstra Premiership season live and ad-free during play on Kayo. New to Kayo? Try it free for 14 days now.
"His management agreed to the terms of a three-year contract two weeks ago," Read said.
"The deal is still not signed. The whispers going around at the moment are that he has cold feet. I'm not saying he won't sign this deal eventually, but some clubs have certainly been told that Jack was a little nervous about the deal and his name popped up on their radar again.
"The Wests Tigers were a club that was interested in him, as was Parramatta. We have to see how it goes.
The offer on the table would be worth $550,000 per season over two years, with a mutual option for a third and Webb was adamant Bird would stay in the Red V.
Dragons roster management consultant Shane Flanagan also revealed he believes Bird is close to re-signing on Sunday night.
Olympian scores in Sharks win | 02:02
"I saw Jack yesterday after the game," Flanagan said on 2GB.
"In fact, he's been a crook all week. He had the flu. There was a bit of a question mark if he would play. Typical Jack, he passed halftime. We didn't know if he would go through the whole game, but he resisted.
"As Ryan Webb said, this deal will be signed. There is an agreement on the terms with his manager. This deal will be signed this week. He has agreed to the terms. We will get this contract signed.
HUGE DOUBLE BRONCOS BOOST
Just a few years ago, the Broncos' recruiting and retention came under intense scrutiny as high-level free agents turned them down and young juniors headed to rival clubs.
But now Brisbane look set to pull off a stunning double coup, with Selwyn Cobbo and Herbie Farnworth both set to re-sign with the club.
Despite the interest of the Dolphins, Roosters and Raiders, Channel Nine's Ben Dobbin reported Farnworth agreed to a one-year extension which will be confirmed on Monday.
Broncos coach Kevin Walters warned earlier in the week that Brisbane are "going pretty strong" in their bid to keep Farnworth.
"He played his 50th game for us last week, we expect to see him running for the Broncos next year for sure," added Walters.
"There is a lot (for him) to consider. Herbie is quite popular among the other clubs, but he's no more popular there than he is here. I feel that he belongs here, that he cut his teeth here and I would like to see him stay.
As for Cobbo, The Daily Telegraph reported that Cobbo rejected advances from nearly every NRL club and sacrificed $200,000 per season to stay loyal to the Broncos.
Cobbo reportedly attracted offers of up to $900,000 per season to jump ship, but will re-sign with the Broncos a deal worth $700,000 per season through the end of 2024.
The Panthers and Storm were reportedly the only two clubs not to pursue the 19-year-old winger, which put the Broncos in a bidding war with the rest of the NRL.
The Broncos were keen to lock Cobbo up until the end of 2025, but his management opted for a shorter deal to take advantage of his projected rise to stardom as he enters his main game and earns potential years.
Cobbo manager Tas Bartlett said press company that the Broncos were in the box for the signing of his star client.
"We are well advanced in negotiations with the Broncos, we are coming to the end," Bartlett told News Corp.
"Selwyn wants to stay a Bronco. He grew up after the Broncos, he's living his dream playing for the Broncos and they've done a lot of social work to help Selwyn to this point.
"The Broncos are in pole position, Selwyn likes to play under Kevvie. He wants to show a sense of loyalty to the club.
Broncos general manager Ben Ikin said the potential re-signing of Cobbo was vital to the club's plans to push for premiership success in future seasons.
"The challenge for us is to build a football program that convinces guys like Selwyn Cobbo or Herbie Farnworth to stay," Ikin said.
"If we do this, our best children will have a very hard time leaving.
"We won't be able to keep all of our players all the time, but I'm confident we have a work environment that people love to be part of."
Cobbo has scored 11 tries in 17 games for the Broncos since making his 2021 debut, including nine this season and is set to make his Maroons debut in Origin I.
THE BULLDOG EXODUS WILL CONTINUE
Brent Naden has already walked through the door and Jack Hetherington could soon follow, with the Bulldogs enforcer considering a move elsewhere ahead of the 2023 season.
It depends The Daily Telegraph David Riccio, who reported on Saturday afternoon that Hetherington had three rival clubs rotating following Trent Barrett's exit from Belmore.
Riccio revealed that Hetherington was one of the few players to sign with the Bulldogs under the impression that he would play under Barrett.
With the former Panthers assistant manager now gone from the club, Hetherington is destined to follow Naden out the door and Newcastle are following the drama very closely.
"Several players have come to the Dogs based on playing under Trent Barrett. Naden, Matt Burton and definitely Jack Hetherington," Riccio said on Triple-M.
"[He is] currently sidelined with a shoulder injury and hoping to be back at the end of this year. In the meantime, Jack was allowed to negotiate with rival clubs. He did that. I understand Newcastle Knights are right at the front of the queue.
"Wests Tigers and St George Illawarra Dragons are interested. The Knights believe he could offer starch to their pack.
MORE NRL NEWS
'SHOCKING': Sea Eagles and Blues dealt a 'fatal blow' with Turbo ruled out for the season
BIG HITS: Tiger's perfect Dolphins audition at the end of the Dogs' brutal week
The Tigers' interest is noteworthy given reports surfaced earlier in the week that they were targeting Roosters second rower Angus Crichton.
Riccio said Crichton's management is asking too much, at least for the Tigers to play him without blowing their cap, and that Hetherington is a realistic backup option.
"The Tigers were interested in Angus Crichton from the Roosters," Riccio said.
"I'm getting mail Angus' asking price is higher than the asking price the Tigers can afford and that's why they can switch gears and focus on Hetherington."
Nonetheless, Riccio "doesn't expect" Hetherington to be at Belmore next year and called the Knights "favourites" for his signing.
WARRIORS TARGET LODGE REPLACEMENT
Riccio also gave an update on the future of former Warriors mainstay Matt Lodge, while revealing how Nathan Brown plans to fill the void up front.
Lodge got an immediate release from the Warriors on Friday and with Addin Fonua-Blake going down with the injury on Saturday, the top-tier stocks are incredibly thin.
He saw the Warriors go straight to the market, with veteran forward Dunamis Lui in their sights.
"He played with the Redcliffe Dolphins in the Queensland Cup," Riccio said of Lui.
"I can tell you that the Warriors are close to taking him on as an immediate replacement. He could be training as early as Monday.
Lodge secured the immediate release of the Warriors | 01:15
Riccio also revealed that although Lodge has been linked with a move to Manly, whispers about his future have been unusually quiet.
"The Warriors and Lodge have reached an amicable decision. It's hard to understand," Riccio said.
"He bought property on the northern beaches and there have been links with Manly, but usually when these player moves happen it doesn't take too long for us reporters to pick up the phone and know where the player is going.
"We couldn't find where Lodge was going yesterday. He basically had coffee with Nathan Brown yesterday, said thank you for everything, went to check on the players, said goodbye and he was gone.