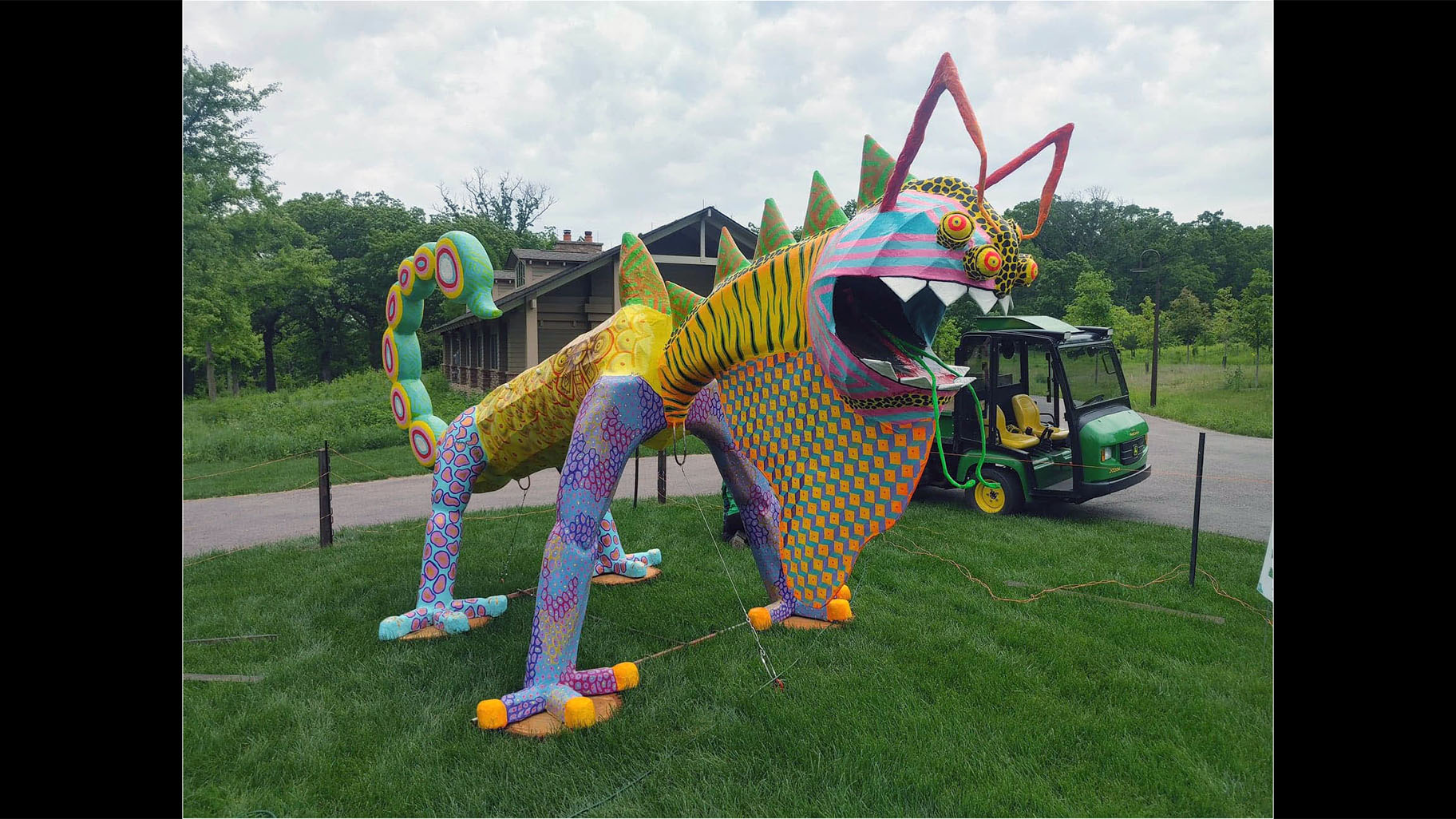 Big dreams come to life in "Alebrijes: Creatures from a Dream World" at Parc de Cantigny | Latin Voice | Chicago News
You might think you're dreaming when you walk through the gates of Cantigny Park in Wheaton and spot giant, fantastical creatures like winged lemurs, two-headed dogs and rabbit-kangaroos frolicking among the flowers.
Eighteen monumental versions of folk art known as alebrijes can be found in the park as part of the exhibition "Alebrijes: Creatures from a Dream World" presented at Cantigny Park by the Mexican Cultural Center Du Page in collaboration with the artist collective Meztli in Mexico City.
The art of alebrijes began with a dream. In 1936, a feverishly ill Mexico paper artist, or cartonero, named Pedro Linares said he dreamed of magically blended creatures exclaiming "alebrije!" When he recovered, he began making and selling colored papier-mâché versions of the beasts.
Today, alebrijes are a popular Mexican folk art, and many are made from wood. But the alebrijes on display at Parc de Cantigny are much closer to the original artist's feverish dream of fantastical creatures that only existed in his imagination turned into papercraft.
Master artist Miriam Salgado named one of her creations "Tochtli" – the name derives from the Nahuatl term for rabbit.
"It's a kangaroo rabbit jumpsuit and it also has an iguana crest," Salgado said. "He's a very happy bunny!"
Anglerfish by artist Edgar Camargo Reyes surfs above grassy waves in a hilly area of ​​the park.
"This is inspired by deep-sea fish and all of it, including the skull, is a representation of this type of sea animal at the bottom of the ocean," he said of his alebrije, which is about the size of an SUV.
Inspiration for each alebrije's intricate adornment can come from anywhere, the artists say.
"I am inspired by nature. And to develop those alebrijes, your mindset is very influential," Salgado said. "The moment you develop the pattern, you are actually painting what you are feeling at that moment on the actual figure."
Alberto Moreno Fernandez's alebrije 'Bicefalo' depicts an inner battle between good and evil.
"It's really centered on yin and yang. That's why one head fights the other," said Moreno Fernandez.
Moreno Fernandez said he had to consider the Midwest weather when planning "Bicefalo".
"Even when the wind is blowing, the room doesn't really move – it's in balance."
Arturo Zarate built his alebrije – a toucan, jaguar, bull and butterfly combination he calls the "Malucan" – with recycled materials like paper and plastic bottles he solicited via social media .
"My expression is to live with nature and the animals that are there and that's how I designed my artworks," said Zarate.
"It had a lot to do with endangered species – and the tendency of humans to take over animals that should actually be free."
Zarate said that the spirit of Mexico and its people is also part of the Malucan.
"Hispanics have a lot of resilience and a lot of strength, and that reflects some of those strengths."
The guest artists say they hope their big, shiny alebrijes inspire people to learn more about Mexico's artistic traditions.
"We're here in Chicago to represent just a tiny fraction of everything Mexico has to offer," Camargo Reyes said.
"Alebrijes: Creatures from a Dream World" will be on display at Parc de Cantigny from June 12 to October 31, 2022 and includes 30 additional small sculptures throughout the park. The "Maquetas & Bocetos" exhibit will feature models and designs of the alebrijes through August 27 at Gallery 200, 103 W. Washington Street, West Chicago.
---