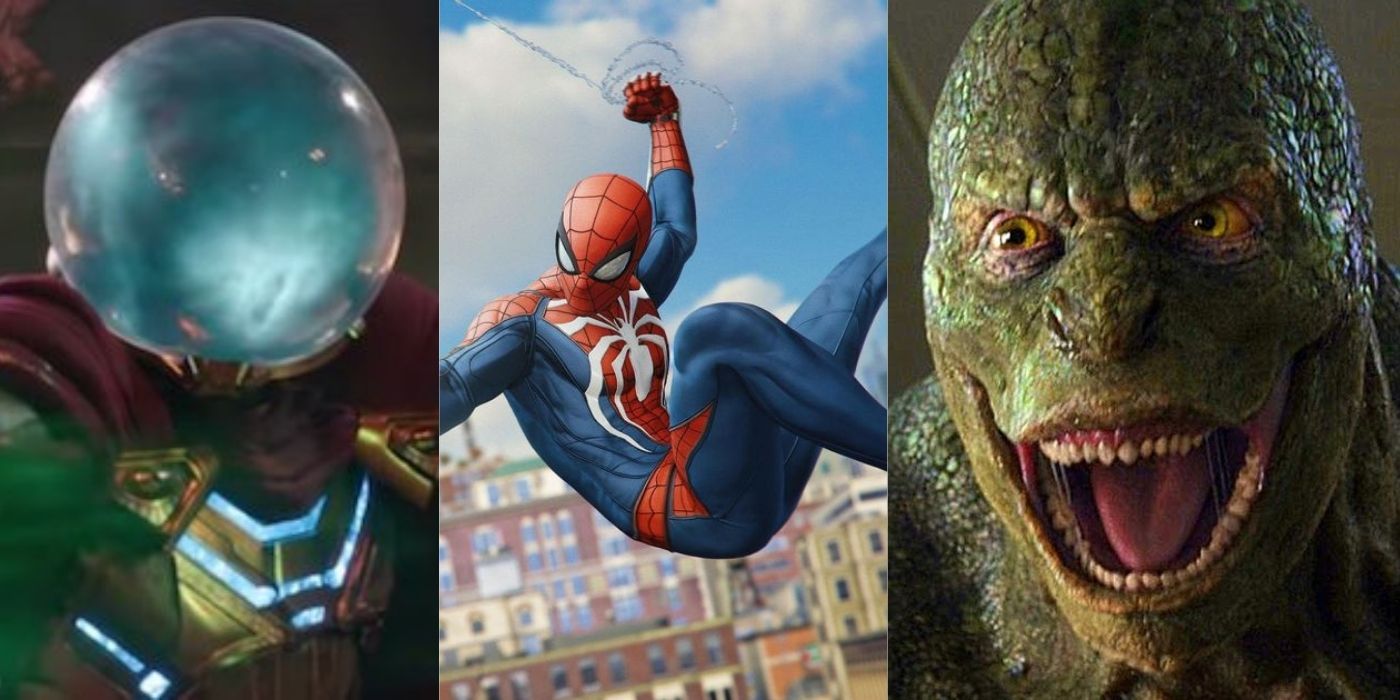 10 villains who must make an appearance, according to Reddit
Insomnia games " Spider Man, released on PS4 (and re-released on PS5) in 2018 was a revolutionary moment in Spider-Man gaming history. Formerly heralded as a revolutionary in the field of comic book video game adaptations through entries such as Spider-man 2 on the PS2, recent Spider-Man games have failed to capture the magic of the web-slinger, losing ground to games like Batman: Arkham Asylum.
RELATED: Insomniac's Spider-Man 2: 10 Things From The Original That Can Be Improved
Praised across the board for its flawless gameplay, storyline, and characters, the game truly captures the veracity of what it means and feels like Spider-Man. Another great admiration for the game was its collection of villains drawn from Spider-Man's rogue gallery, including Doc Ock, Electro, Mr. Negative, and Scorpion, to name a few. With Spider-man 2 officially announced, with the confirmation that Kraven and Venom will appear, there has been a lot of speculation and passion among Redditors about what other Spidey villains they want to see in the sequel.
Green goblin
Spider-Man's most iconic villain and nemesis, fans of Spider Man on Reddit have claimed to see what Insomniac Games is doing with the character. Already introduced to the original game as mayor of New York City, Norman Osborn was a key character in the creation of two of the game's great villains: Doc Ock and Mr. Negative.
Osborn's descent into the character of Green Goblin is something almost every fan of the show wants. The only point of disagreement stems from whether this should happen in the second entry in the series or in the third. Redditor CaptVenkman speculates that "Green Goblin will be the main villain in Game 3 of the Finals."
Lizard
Another popular choice among Redditors for the bad guys they want to appear in Spider-man 2 is Dr. Curt Connors' reptilian alter ego, The Lizard. Having been introduced to the post-credits scene of Spider-Man: Miles Morales on PS5, fans are now hoping that the big-name villain will appear in the sequel.
RELATED: 10 Best Villains In Marvel's Spider-Man Game, Ranked
Much of the speculation regarding the character has to do with another already confirmed villain: Kraven the Hunter. A deleted Redditor wonders if "the lizard will likely end up needing to be rescued and fought because it will likely be hunted by the kraven." Knowing about Kraven's infamous reputation for hunting big game creatures, this certainly seems like a big possibility.
Mysterio
A Spidey villain who has appeared in several video games as our hero's antagonist, most recently as the main villain in Spider-Man: Shattered Dimensions, Mysterio is a popular villain pick among Redditors.
Fans have already pointed out how Mysterio's abilities could translate into the game, with Infinite_Addiction_46 commenting "Mysterio's missions could be like Scorpion's poison but more trippy." These mind-blowing missions from the original game (heavily influenced by the game's Scarecrow missions Arkham series) were noteworthy, and seeing something similar with Mysterio would give the developers space to do something visually creative.
Spider killers
Created by Spencer Smythe, with financial support from J. Jonah Jameson, in the comics, the appearance of the Spider-Slayers in Spider-man 2 would create another kind of powerful enemy for our hero to fight. TheeGooDollyPartons claims he would be "quite shocked if we didn't see the Slayers appear in the sequel".
An appearance by the Spider-Slayers would also be a perfect opportunity to bring J. Jonah Jameson into the story more directly, unlike his presence in the original game, which was only on radio.
Spectrum
An unknown villain / antagonist to many Spider-Man fans, and a newcomer to the Spider-Man pantheon of antagonists spanning over 50 years. Yuri Watanabe's vigilante counterpart, Wraith, was teased in the Spider Man expansion pack The city that never sleeps, and his descent into the character of Wraith is something Redditors really want from the sequel.
As Crafty_Breakfast3593 points out, it would be "a sad and stupid mistake not to continue its story". Having one of Peter's closest allies and confidants from the original game become the enemy would be fantastic for Peter's story and character development.
Carnage
With confirmation via the first trailer for the game that Venom will feature, there has been an inevitable chorus that followed across the internet as to whether this would signal a Carnage appearance. Fans often present Carnage as one of their most beloved characters, mostly due to its unique terrifying design.
The editors doubt that Carnage will serve as the main villain for the game, but want to see the character appear in DLC content at a minimum. Tellmeabouthebow says "Hey, I think if Carnage shows up, he should just be the DLC villain." After many felt that the character was not given the prominence or attention he deserved in Venom: let there be carnage, it would be interesting to see what the Insomniac creative team could do with the character.
Sand seller
One of the oldest villains in the Spider-Man myth, first appearing in 1963, Flint Marko has appeared in various mediums related to Spider-Man, most recently in Spider-Man: No Path Home. In many different subtitles relating to Spider-man 2, fans all seem to want Sandman to appear in a sequel to some title, whether as a side villain or as DLC.
RELATED: 10 Hardest Boss Fights In The Marvel Spider-Man Games
Many Redditors have pointed out that a boss battle with Sandman would be amazing and "a great way to showcase the graphics capabilities of the PS5," as SpciyJuul said.
Morbius
With an upcoming appearance in his live-action solo debut increasing the character's popularity and notoriety, Morbius was a name frequently cited among Redditors as a villain they'd like to see. As Varon_DiStefano comments "I would love to see a surprise like Morbius".
Given Kraven's presence in Spider-man 2 and Harry Osborn's unknown health in the series, there are many ways that Michael Morbius' vampire counterpart could be incorporated into the series.
Chameleon
Spider-Man's oldest nemesis in the comics, Chameleon is a master of disguise and deception. Half-brother of Kraven the Hunter (whose presence in Spider-man 2 has already been established), Chameleon would be an ideal candidate to appear as a villain in the game.
As many Redditors have pointed out, Chameleon, despite being Spider-Man's very first opponent, has been largely overlooked in Spider-Man media, having no appearances in live-action movies and a only notable appearance in a Spider-Man video game. The Incredible Spider-Man 2. In hotice1229's view, Chameleon "has always had potential, at least I think he's one of Spidey's biggest enemies."
Central pivot
The only entry on this list that was already in the original game. However, that hasn't stopped fans of the game from hoping that the Crime Lord will return in his sequel in a bigger role. Introducing the first mission and the first boss battle in the original game, Kingpin largely disappears from the proceedings after that, but his presence is felt offscreen.
Most Redditors agree that it will come back to some extent, as TheAdvancedSpidey comments "it is definitely coming back in a parallel scenario at the very least". Kingpin's grip on the city definitely weakened during the original game as rival gangs such as the Demons and private security contractors Sable International took control of the city after his imprisonment. Spider-man 2 could feature Kingpin's triumphant return to New York City and his attempts to relinquish control.
NEXT: Every Marvel Video Game Coming In 2022 (And Beyond)
90-day fiancé: Gino congratulated for asserting himself with a demanding jasmine
About the Author